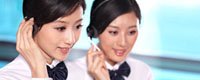 Name: Samuel Wu
Tel: +86-755-27751505
Fax: +86-755-23127886
E-mail: samuel@carlor.com.cn
Office ADD: Unit3A28,Block A,Zhihui Innovation Center,Qianjin Road 2, Bao'An District Shenzhen 518126 China
Skype: Apexthreeman
MSN: samuel7753@hotmail.com
QQ: 14029950




Product name : Massaging Neck Pillow

Item : V-301
Details:
•To relax your neck muscles and rest your head.
•Soft and welcoming,this cushion made of soya fibres wraps around the neck perfectly.
•Its vibration creates a massage that releases muscular tension at the top of the back and arounf the neck.
•Placed around the neck while travelling or sitting on the sofa,it offers made-to-measure comfort.